One of the most invaluable experiences which the SPD Programme provides for every undergraduate student is an internship. The Programme recognises the importance of work-integrated learning as essential for the transition of students to be professionals.

I undertook a two-month long internship at SEAMEO Secretariat (SEAMES) which is the headquarters and executive arm of the SEAMEO (Southeast Asian Ministers of Education Organisation) Council.

SEAMEO is an international intergovernmental organisation which was established in 1965 by governments in Southeast Asian countries with the aim to enhance regional cooperation in education, science and culture in the region. SEAMEO's governing body is called SEAMEO Council which is composed of the Ministers of Education of 11 SEAMEO Member Countries. The Council determines the policies together with strategic directions of the organisation.

As an intern, I was in the Programme and Development Division under Ms Shahrizah Abdullah, a Programme Officer I (Policy and Development) of the Secretariat.


My main roles and responsibilities were working on papers and presentation slides. I assisted in drafting, revising and updating working papers for the 50th SEAMEO Council Conference and SEAMEO Centre Directors Meeting 2019. In addition, I was responsible for preparing presentation slides not only for those 2 events but also the 4th Strategic Dialogue for Education Ministers (SDEM), the Regional Workshop on SEAMEO Strategic Plan (2011-2020) and SEAMES Strategic Planning Workshop (2011-2020).

My other additional duties included: conducting research on Educational Trends and Challenges of Timor-Leste, writing articles on the Regional Workshop on SEAMEO Strategic Plan (2011-2020) and the Winner of SEAMEO-Jasper Research Award 2018/2019: Overcoming Barriers to Inclusion for SEAMEO Education Agenda Magazine (SEAMAG), drafting, revising and updating internal memorandum, concept notes, administrative notes, and letters of invitation, consolidating workshop outputs, writing summary reports, creating certificates of SEAMEO Affiliate Membership, drafting MC Script, drafting letters of appreciation for keynote speakers during the 4th Strategic Dialogue for Education Ministers (SDEM), drafting Save-the-Date letters for SEAMEO Executive Committee 2019, being a rapporteur during the networking session of SEAMEO Centre Directors Meeting 2019, gathering resource materials and occasionally assisting with SEA-TVET Programme and SEA-Teacher Project.

During the internship, I attended several significant meetings and workshops as follows:

1. The Regional Workshop on SEAMEO Strategic Plan (2011-2020)

This workshop highlighted the SEAMEO Strategic Plan (2011-2020) and SEAMEO 7 Priority Areas and prepared for Post-2020 SEAMEO Strategic Plan. Organised by SEAMES, the two day-intensive workshops brought together 34 delegates from SEAMES, SEAMEO Member Countries, SEAMEO Centres and resource persons from ASEAN Secretariat and UNESCO Bangkok. I was able to learn the process of the workshop as well as how it ran and organised. I also saw delegates discussing and sharing ideas or experiences with passion, enthusiasm and feelings of inspiration.


2. SEAMES Strategic Planning Workshop (2011-2020)

This workshop was held with the objective to review the SEAMEO Strategic Plan (2011-2020) and prepare the annual plan for SEAMES. During the workshop, I participated in the discussion session with Programme and Development Division. We used a SWOT analysis to analyse the organisation's strengths and weaknesses as well as the opportunities and threats that the organisation is facing.

After this session, I was one of the representatives from the team to present what we discussed so far. I learned a lot from the professional staff and their past experiences. I could feel their passion for educational issues and their dedication towards the SEAMEO work. I was so amazed by everyone and the incredible effort they put into their work.


3. The National Consultation Meeting on Academic Mobility: SEA-Teacher Project and SEA-TVET Student Exchange Programme

This meeting was held to re-orient the participating universities of the two programmes and gain a better understanding on national policies and procedures for entry and stay of foreign students. Better conversations will lead to better understanding and programme planning. Moreover, this meeting was held as a platform for all the participants to share their opinions on the issues and possible solutions to improve future batches of the programme and project. I served as a rapporteur taking notes during the meeting and I helped my supervisor who was a group assistant in the panel discussion and the workshop session.



4. SEAMEO Centre Directors Meeting 2019

SEAMEO Centre Directions Meeting (CDM) is an annual meeting where SEAMEO Secretariat, Centre Directors and professional personnel review past activities and propose new programmes for endorsement. During the CDM 2019, I served as a rapporteur taking notes during the meeting to prepare for the proceeding plenary. Moreover, I served as both rapporteur for UNESCO International Research and Training Centre for Rural Education (UNESCO INRULED) from China and group assistant for Monash University from Australia, the Institute for the Promotion of Teaching Science and Technology (IPST) from Thailand, UNESCO, Asia-Pacific Regional Bureau for Education from Bangkok and UNESCO INRULED during the networking session and round-table discussion.


With these 4 events, I have been exposed to what SEAMEO is working on, what they have already achieved in the past years, and what they are going to do in the future. It was an honour to be part of the meeting observing how the event organised and how delegates from each Centres perform. The meetings also help expand my connection as I have known so many people for different places and countries. This helped me to grow a lot at a personal level and to expand my horizons.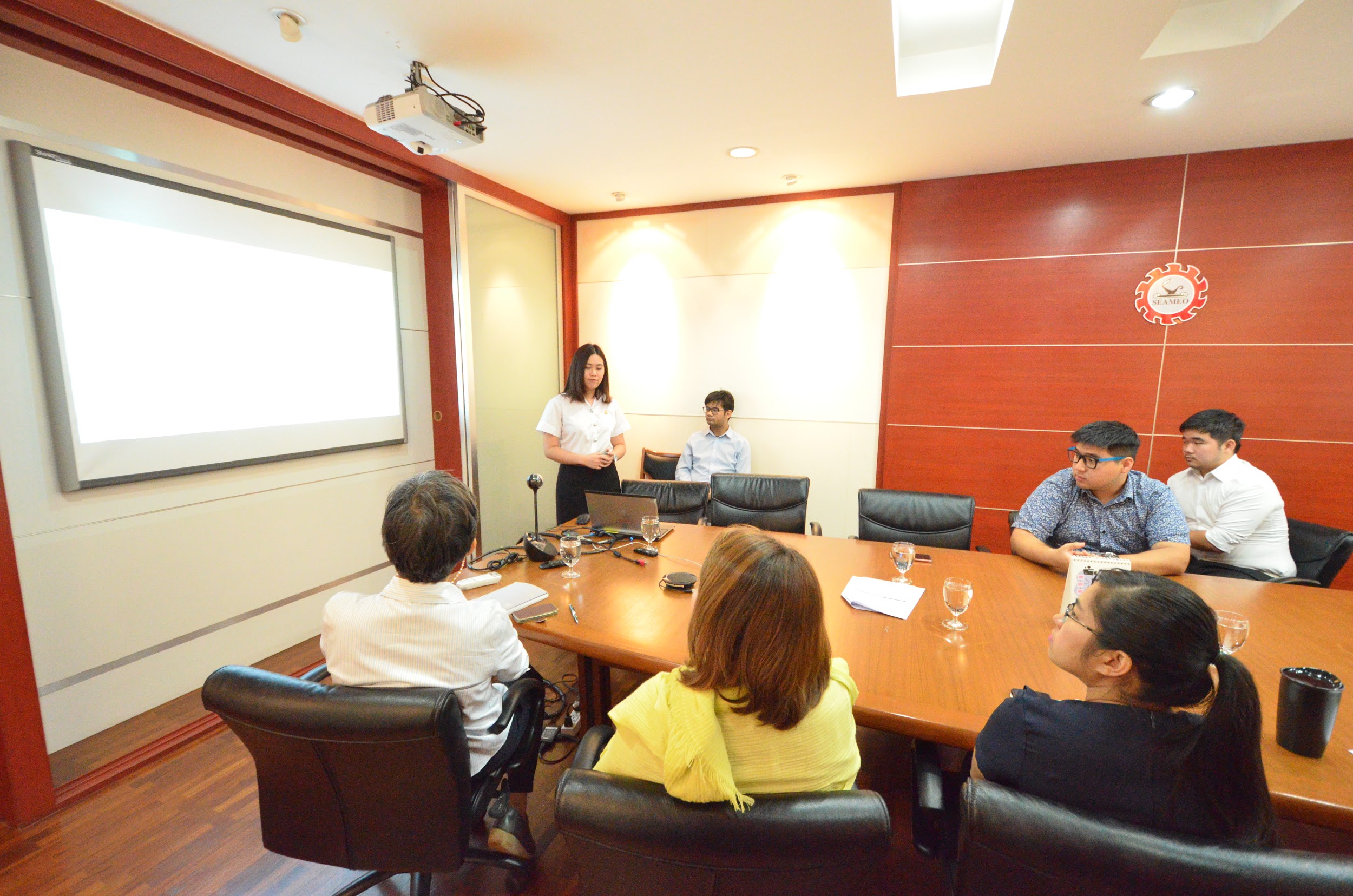 Looking back at these two months of the internship, I would say that everything was beyond my expectation. I have learned to work in a large international organisation and apply my knowledge into practice.

SEAMES has given me excellent working experiences, great connections and skill development all at the same time. I have learned how to work with various people in diverse situations. I have developed multiple skills such as multitasking, critical and analytical thinking, problem-solving and other interpersonal skills. I sometimes had a hard time with some tasks but those tasks and challenges pushed me out of my comfort zone. I know that I will be challenged soon in the real working world so I view every assigned task and experience during my internship as a great chance for me to prepare for that. I strongly believe that saying yes to assigned tasks which I have never done before, no matter how difficult they may seem, is the only way I am able to grow.

"In the end, all internship opportunities and experiences become valuable lessons that I cannot learn in the classroom. I perceive this opportunity as a big breakthrough in my self-development."

SEAMES has changed my life in more positive ways. Attending the internship programme here was invaluable and memorable. Not only would this training help me to fulfil my short-term objectives, I have also expressed my long-term ambition to start my career in an international organisation concerned with policy and development. This entire experience will remain as strong life-long memories for me.